Reckless Intent Wrestling have announced a fifth contest for their October 6th event, The Reckless Rumble at the Murieston Scout Hall in Livingston, Scotland.
It has been confirmed that Glen Dunbar, Eric Canyon, Delsin Dayre and Falcon will compete in a fatal 4-way in Livingston on October 6th.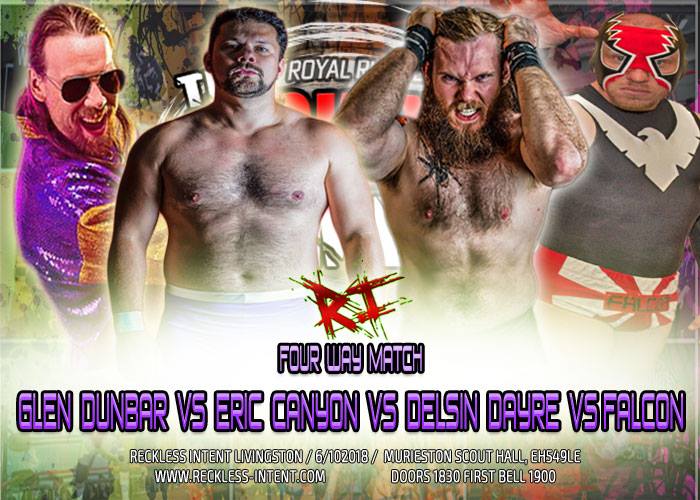 Photo Credit: Reckless Intent Wrestling
The announced match card is as follows:
Match Card
Reckless Rumble
Confirmed Entrants: Grado, Chris Renfrew, Michael Chase, David Devlin, Jack Morris, Dickie Divers, Theo Doros, Robbie Solar, Alexander Darwin MacAllan, Glen Dunbar, Scott McManus, Conscience, Eric Canyon, Falcon, Jackie Grady, Rob Mills, Delsin Dayre, Justin Deen, Brandon Adams
Age Of Orion (Michael Chase & Theo Doros) vs The Goss Dynasty (Dickie Divers & Jack Morris)
Chris Renfrew vs King Robert Wishart
Fatal 4-Way
Glen Dunbar vs Eric Canyon vs Delsin Dayre vs Falcon
Reckless Intent Hardcore Championship – Empty Arena Match
Justin Deed vs Jam O'Malley
More Information
Doors Open: 6.30pm. Bell Time: 7.00pm.
Tickets: Available now through the official Reckless Intent Wrestling website, here. Also available on the door, on the night (dependent on availability).
Source: Reckless Intent Wrestling