3 Count Wrestling have signed a second championship match for their August 12th event, Mid-Summer Showdown at the Dolphin Centre in Darlington, England.
It has been confirmed that Benji will defend the 3CW North East Championship against Sugar Dunkerton in Darlington on August 12th.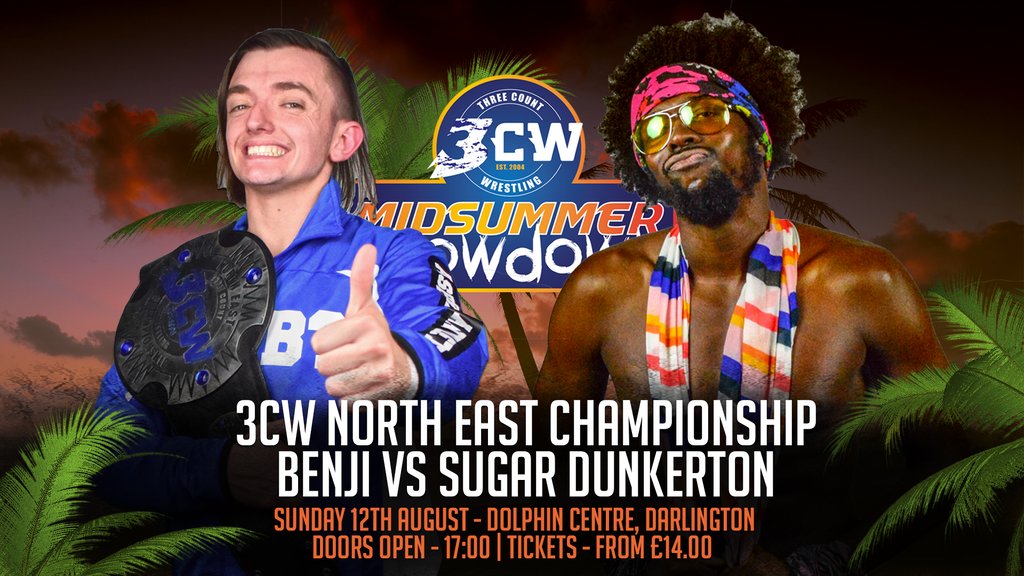 Photo Credit: 3 Count Wrestling
The announced match card is as follows:
Match Card
3CW North East Championship
Benji (c) vs Sugar Dunkerton
3CW Tag Team Championship
Sons Of Damned (Rory Coyle & Dragon Aisu) (c) vs H.T Drake & Satchel Jones
Dog Collar Match
Screwface vs Chris Renfrew
I Quit
The Rogues Gallery (Leon Mercer & Stan Kellitt) vs The Dormo Dynasty (??? & ???)
"The Mexican Sensation" El Ligero vs Dara Diablo
Martin Kirby Confirmed To Appear
More Information
Doors Open: 5.00pm.
Tickets: Available now through the official 3 Count Wrestling website, here. Also available on the door, on the night (dependent on availability).
Source: 3 Count Wrestling